9 Wedding Day Food Selection Mistakes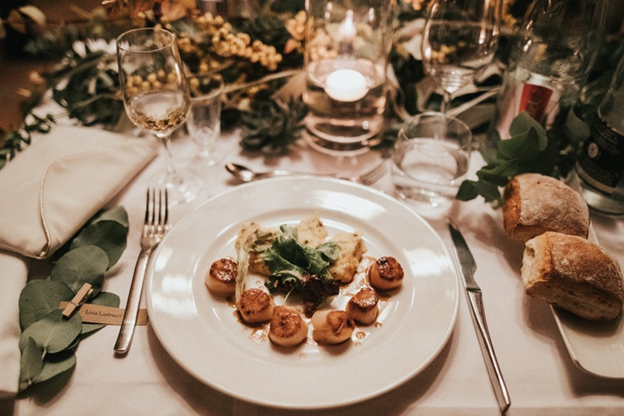 A wedding ceremony means a lot of guests, meaning tough decisions about the food menu. You definitely want your near and dear ones talking about the food at your wedding even after weeks. But selecting dishes that will make everyone happy is one of the most difficult tasks of your wedding. Just imagine the pressure of satisfying over a hundred different taste buds with limited options. Therefore, to help you avoid any kind of blunder in terms of food, we have enlisted some food selection mistakes that you must avoid on your D-day.
Mistake #1: Skipping the Tasting Part
Many wedding caterers offer attractive, likeable wedding deals and packages. They are standard and are created based on the experience of earlier weddings. Although you select a wedding caterer because you have tried their food in the past, don't forget to taste every dish that you finalize. Just because you enjoyed one dish on their menul doesn't mean that every item specified on the list can meet your expectations. By all means, taste what you are planning on ordering or on the menu provided by the caterer. You may be charged to taste, but it is surely worth the money. On your wedding day, you will be assured that delectable food is being served to your friends and guests.
Mistake #2: Ignoring the Regular Menu
Wedding caterers do have premium packages with a pre-planned menu but try asking for their regular menu. The caterers might have some interesting options on their regular menu that you may like. Sometimes the regular menu may have dishes that you might want to switch to instead of a particular dish in the set package. Compare the prices of dishes on the regular menu and pre-planned menu, and choose the best that suits your needs and fits in your budget.
Mistake #3: Choosing Off-Season Foods or Dishes
While it may be very appealing to go over-the-top and opt for exotic dishes to impress your guests, doing so is not highly recommended. Out-of-season and exotic dishes can be expensive. Remember to choose ingredients that will be available during the season. It will be economical to choose dishes that coincide with your season to get fresher ingredients at a heartier price. Talk to your wedding caterer about the ingredients that will be available at the season. Though many couples want their wedding to be unique with interesting food recipes, you don't want to overdo your budget and eat things that may not be very fresh.
Mistake #4: Forgetting the Cocktail Hour
There is a reason why the cocktail hour is called 'cocktail hour.' Cocktails and alcoholic beverages flow continuously during this time. You don't want your guests to be drunk. Therefore limit the duration of your cocktail hour to a limited time only. Also, make sure you choose light snacks and finger foods that go well with the beverages. Avoid choosing any filling dishes for appetizers. Ensure that your guests are not too filled with appetizers because then they won't be able to enjoy the dinner you picked so carefully. Do not forget to keep non-alcoholic drinks for minors, pregnant ladies, and non-drinkers. You can always add a signature mocktail as an extra considerate touch.
Mistake #5: Thinking that Plated Dinner Is a Cheaper Option
Saving money is important, and a plated dinner can look like an ideal option because you think it is reasonable and saves a lot of food in the end. That's not true. The cost of waitstaff and several dishes on the menu add up and make this an expensive option. If you have chosen a sit-down, family-style setting for a small and intimate wedding, you may opt for a plated dinner without burning a hole in your pocket. But if your wedding is going to end with a high-energy party, buffets are the best option as you will have people mingling and talking to each other. There's no need for extra waitstaff and presentation of each dish separately, which means you will save a lot of money there. If you are still not sure which dining type will be ideal, you can discuss it with your wedding caterers and choose between buffet and plated dinner.
Mistake #6: Not Keeping in Mind Different Dietary Needs
Some couples try to tailor the menu to reflect the bride and groom's taste without thinking about anybody else's taste buds. Your wedding is your special day, absolutely, but it doesn't create a good image to invite all your nearest and dearest ones without thinking about their food preferences. If you have friends who are vegan or gluten-free, you need to make sure that you have such food options for them. Think about their specific food preferences, include some dishes in your menu, and make your guests feel happy.
Mistake #7: Serving the Same Food to Kids
If you are inviting little ones at your wedding, you need to make sure that they have appropriate meal options. Don't forget to ask the wedding caterer about the kid's menu or some dishes that kids can easily enjoy. You don't want the kids to have the same food as the adults as children can be picky and finicky about food. You can also have some small items on the menu for the kids to choose from.
Mistake #8: Picking Wrong Alcohol-Food Combination
Food can affect the taste of the alcohol. It is a bit difficult to choose the alcohol that complements the menu. In this case, a rule of thumb that you should remember: pair the drink with the sauce and the seasoning of the food. For instance, you can pair red wine with a steak course or you can have sweet low content alcohol with a spicy appetizer.
Mistake #9: Failing to Keep Appetizers and Late Night Bites
A piece of valuable advice for the bride and the groom: Don't forget to feed yourself before and after the ceremony.
The wedding day can be very tiring. You don't want to faint on your special day and ruin your moment. Have some light appetizers before the ceremony. Keep some late night bites such as chicken fingers and fries for you and your guests at the end to ensure that your guests are full and pleased.
No matter what you do with the menu, you cannot please every guest at your wedding. All you need to do is look at the majority and ignore the picky ones and critics (it's hard to please them!). At the end of the day it's your wedding day, so enjoy your memorable moment and let the wedding caterers take care of it.
If you are looking for wedding caterers and a perfect place to hold your wedding ceremony, contact Mirage Banquets to celebrate the memory of a lifetime.