Your Parents Nearing 50 Years Together? Here's How You Can Surprise Them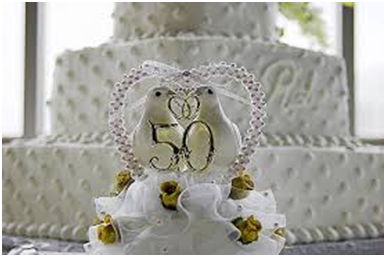 50 years of a wedding is a milestone for a couple. If your parents are one of those lucky couples who are about to reach this milestone, then you'd probably want to surprise them and celebrate this special event? A surprise 50th wedding anniversary could be the best gift you can give to your parents, and they'll surely be overwhelmed with joy. Here are some 50th anniversary party ideas to help you make the event memorable:
Begin with lovely invitation cards
Whether you are planning to keep it simple or make it a grand affair, invitation cards are must. There are many 50th-anniversary wedding invitation card options available for you to choose from. But, you have to maintain the secrecy. It may happen that some of your parents' friends might burst the bubble. You would not want that, right? Along with a beautiful invitation card that has an amazing picture of your parents on it, include a message requesting the guests to keep this surprise a surprise.
Decide a theme
Gold is the colour for 50th wedding anniversary worldwide. You can choose this or any other color as your theme. While gold is the official color, violet flowers are the official flowers for 50th wedding. If these ideas don't appeal you, you can plan a theme around their favorite movie, honeymoon destination, or decorate the venue with their photographs of all these years. At Mirage Banquets, we can help you plan a perfect theme for your parents' wedding anniversary.
Revive their journey
The idea of the renewal of vows is the best way to make your parents walk down the memory lane. Revive their wedding day by offering them rings to exchange. This will take them back to the old time and relive those moments. Also, you can make a short movie or video that contains video clips and photographs of events that are close to your parents' hearts. This will make the event memorable.
Choose a perfect venue
Choosing the right venue matters a lot. You should select a venue that can accommodate the number of guests you are expecting to attend the event. Plus, you need to make sure that the venue is equipped with all the requirements. A wedding banquet hall is the best choice when it comes to choosing a venue for your parents' 50th wedding anniversary. Apart from the amenities, inquire what food and drinks they'll serve and select those dishes and beverages that are your parent's favorite.
If you are searching for a venue for your parents' 50th wedding anniversary, then search no more. At Mirage Banquets, all your requirements will be taken care of well. Contact us to book your date today.