Tips for Throwing an Eco-friendly Wedding Reception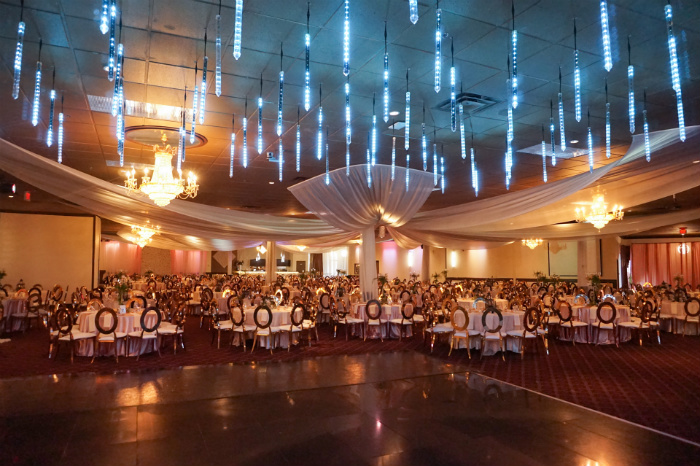 A wedding marks the most important day in a person's life. It keeps the bride and groom on their toes, quite literally. From decor to catering, everything needs is to be taken care of to avoid maximum wastage. Nowadays, eco-friendly weddings are increasingly popular as environmental awareness is a significant topic of concern. We are not asking you to skip the party, flowers, gorgeous invites, or delicious meals – we are talking about seemingly small changes that will make a significant impact. So, from selecting the right ceremony and reception venues to the afterparty arrangements, here are few suggestions on how to throw an eco-friendly wedding reception!
Select a Location Close to You
Consider this as the primary priority before taking care of other things. The proximity of the ceremony and reception venues to your residence play an essential role in your wedding. We know outdoor ceremonies don't work for everyone. Host your ceremony and reception in one place that saves enormous travel time and cuts back on fuel emissions. You can even choose a venue that gets plenty of sunshine and host a daytime wedding to leave the lights off. It is essential to ensure that the ceremony and reception venues are within walking distance from each other.
Digitize your Wedding Invites
Items like save-the-dates, thank-you notes, and invitations are all critical factors in establishing the style and theme of your wedding. They also make for excellent wedding reception tokens. But, why should RSVPs only be on paper? It is advisable to set up a digital RSVPing system on your wedding website, provide the URL, and give simple instructions on how to RSVP to your reception. You skip the need to print reply cards, envelopes, and stamps altogether.
Not only does it save you a ton of paper waste, but also an enormous amount of money on postage, printing, delivery, and more. You have an easier time to track who's coming and who isn't with RSVPs sent directly to your online system.
Go for a Pre-Used Wedding Dress
Buy a classic, old-fashioned bridal dress that saves the Earth from textile waste, production, and often shipping emissions.
Also, reusing a dress is a great eco option and reduces cost. For second-hand dresses, brands such as Pre Owned Wedding Dresses and StillWhite are amazing places to get a grand bargain. They have a vast collection of pre-owned wedding dresses that are affordable and accessible.
Nowadays, it is becoming a popular trend to do photoshoots where you trash your dress by jumping in the sea or wearing it in a weird setting. Saving your dress to carry forward it to the next generation or selling it on is ethical and helps bring joy to someone else.
Place Flowers Strategically
Florals are the most expected element of your wedding décor but are also the least ecologically conscious components of all. Out of season florals and exotic picks imported from other countries cost a lot of emissions to be procured to the wedding venue. Flowers from farms that aren't organic do not get our thumbs up for eco-friendly wedding ideas. What you can do is work with a farmer florist who creates your wedding arrangements from natural blooms and maintains it throughout. If you can't find one or if they exceed your budget, ask your hired florist to source only in-season flowers, and work with as many local flowers as possible.
There are other ways to light up your florals without hampering the environment. Use lots of greenery (more leaves, fewer flowers) and decorate with potted plants or succulents.
Finally, donate your centerpieces and other arrangements to a local hospital after your reception, so your precious florals can be recycled rather than being discarded.
Consider the Catering
Food is the center or any celebration and going green does not imply you have compromised on taste. When you are sticking to that budget, keep in mind that organic foods may cost more, and ask your caterer to source from in-season, locally grown produce. This decision will help keep the costs down and guarantee the freshest finds.
You can also work with a neighborhood baker to see if they are on board to use locally-sourced ingredients (like eggs and milk products) for the wedding cake.
Supplement your table décor with herb plants in terracotta pots, like basil or cilantro, that will brighten up the environment with fresh scents.
Rethink Favors
Favors are often the most overlooked element at a wedding reception. You invest a lot of time and money into purchasing hundreds of the perfect items, only to find that barely some of them were taken at all, and the remaining are left behind for you to push in a closet. If you want to send your guests home with a thank-you gift, consider an edible favor – like trays of choco chip cookies neatly arranged near the exit or just going extra on the dessert counter after dinner. If that doesn't still feel adequate, consider a plantable favor like a seed packet, local tree sapling or potted succulent that complement your eco-friendly wedding. Interestingly, these ideas can be used at both the ceremony and reception venues, if at all they are held differently.
For a different alternative, opt for a charity donation. Display a sign informing guests about your contribution to a meaningful cause instead of favors, or pick a few of your favorites and let guests select. Provide information on each charity and allow guests to read up on all of them. Ultimately, let them decide which charity they'd like you to contribute to on their behalf.
Whether you do one of the above or all of them, utilizing eco-friendly wedding ideas for your wedding reception doesn't have to be hard or game-changing. You can always go for alternatives rather than splurging, and that can save you from tossing a million bucks.
To make your wedding reception an unforgettable memory, The Mirage Banquet is the place to go to take care of your requirements.