Week T-Minus 13 to Day 0: Your Complete Wedding Checklist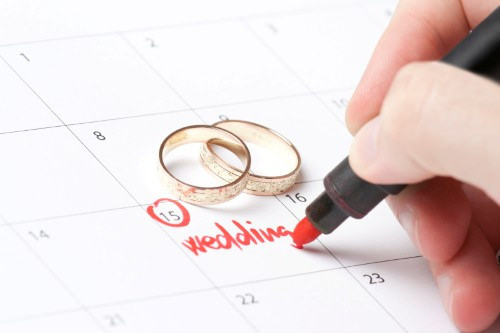 The clock has started ticking, and the countdown has begun. One of the best days, surely the most beautiful day of your life is just T-minus 13 weeks (or three months) away now. You are going to enter, or you already are in a super chaotic phase. From shopping for your lovely D-DAY attire to going to several wedding venues to find the right one to deciding your honeymoon spot, you have to look after so much. But we've got something for you! This wedding checklist right from this moment to Day 0 so that you don't break your back doing the preparations and do everything at the right time.
Week T-Minus 13
Outline your budget for everything.
Book pre-marriage course – if required by your church.
Start looking for honeymoon destination options. See to it that your passports are valid and will remain valid till the time for your honeymoon arrives.
Look for wedding venues as per the tentative number of guests you'll have and your convenience.
Find some fantastic bridesmaid dresses or best man attires for your friends. Pinterest Is an ideal place to look up.
Establish your fitness routine, if required.
Decide a location for your bachelor or bachelorette party, and start planning for it.
Week T-Minus 12
Begin compiling your guest list.
Start hunting for the prettiest wedding dress or suit and matching footwear and accessories.
Browse wedding invitation designs and coordinating stationery such as wedding cards, menu cards, Thank Yous, and favors.
Week T-Minus 11
Book honeymoon tickets and make hotel bookings.
Apply for a marriage license.
Get the engagement ring insured and consider purchasing wedding insurance.
Week T-Minus 10
Place the order for wedding invitation cards, gifts, and favors.
Think of some beautiful hair-dos for the day.
Also, finalize with a makeup artist, and book them now itself.
Do wedding night hotel bookings.
If you have to book accommodations for your guests, make sure you get them done now.
Week T-Minus 9
By this time, you must have your wedding day attire and accessories shortlisted. Only the stitching, tailoring, or fittings should be done after this point.
Decide who your bridesmaids and best men would be. Notify them that you have selected them.
Week T-Minus 8
Send cute save-the-date cards. Spread them all over the social media; Facebook, Instagram, Snapchat, everywhere!
Week T-Minus 7
Week T-Minus 6
Check on the invitation cards and gifts.
Find a choreographer if you plan to have dance performances on the wedding day.
Find a professional photographer, videographer, caterer, and musicians.
Week T-Minus 5
Finalize the food and beverage menu for each ceremony.
Collect cards and gifts from the vendor. Start handing them over to your friends, family members, loved ones, and other guests.
Decorate your house.
For fun, if you haven't

picked a wedding hashtag

, get moving on that.
Start the wedding day countdown on social media and elsewhere. You can start it later as well.
Week T-Minus 4
Find and finalize a florist. Explain to the florist what your dream wedding looks like with those pretty flowers everywhere.
Experiment with hairstyles and make-up right away.
Get your marriage license.
Have a menu tasting with your wedding venues or caterer.
Week T-Minus 3
Establish a skin care and beauty routine.
Choose cake style, place order, and schedule tastings.
Throw a bachelor or bachelorette party.
Choose the music for your wedding day.
Week T-Minus 2
Book transportation to and from the wedding venues.
Give a clear picture of the guest count to the caterer and even the wedding venue.
Get the final haircut, shave, and hair color.
Follow up with guests. These guests include the ones who confirmed as well as the ones who didn't RSVP.
Send out as many final payments as you can.
Week T-Minus 1
Finalize playlists with musicians.
Delegate small wedding-day tasks like gift handovers.
Call vendors to confirm the date, times and location.
Confirm honeymoon reservations.
Pack for the honeymoon.
Pick up wedding rings.
Pick up the marriage license.
Do the final dress fitting with shoes, accessories and even undergarments.
Make sure any clothing you want to be cleaned or pressed is taken care of.
A Day Before
Provide all wedding professionals with an emergency phone number to call on the day of the wedding.
Ensure the cake is on track to be delivered to the wedding venue.
Get the final manicure, pedicure, face and hair therapy done.
Keep your wedding day emergency kit ready. This should have all the essentials you may need on the day, including cosmetics and safety pins.
Don't overeat or drink too much.
Eat light, less sweet, less oily. Avoid everything that doesn't suit your body.
Sleep well.
D-Day
Wake up fresh.
Eat good and eat well.
Take ample time to get ready and look your best.
Go live on Facebook, update InstaStories, take snaps on Snapchat.
Feel free to reorder these timelines and tasks as per your convenience. But don't forget to live every moment before and on your wedding day. Create memories that you can cherish for the rest of your life. And yes, don't forget to spend some lovely time with your significant other amidst all these preparations!
BONUS: After the Wedding
Prearrange for someone to return any rentals.
Take your dress or suit for cleaning. If you can't do it personally, pre-plan it for someone.
Write and send thank-you notes to gift-bearing guests and vendors who were especially helpful.
Collect your marriage certificate.
Set off for the honeymoon!
Congratulations in advance!